Review: Fetch v4.0.3 vs. CaptainFTP v2.1.J
Applelinks, 16 Feb 2003
Reviewed by Kirk Hiner

Genre: FTP Utility
Format: Download
Developer: Fetch: Fetch Softworks, CaptainFTP: XNet Communications GmBH
Fetch Minimum Requirements: Mac OS 7
CaptainFTP Minimum Requirements: Mac OS X, G3 processor, 64MB RAM, 1MB hard disk space
Retail Price: $25.00 each
Availability: Out now

It's not hard for me to recall a time when downloading anything of worth from the internet required a good FTP program. When I wanted a new game, I couldn't just launch a browser and go to MacGameFiles or C|net, I had to log into an FTP archive such as Info-Mac and find the "game" folder. I'd scroll through all the file names, see what looked interesting, then download whatever my 2400 baud modem could handle.
In those days, there was pretty much just one choice for FTP access on the Mac; Fetch. Developed for Dartmouth College, Fetch (and that little, running dog icon) has been synonymous with Macintosh FTP since public internet access really took off. For a long time, it was all I used. It was free, after all, then switched to unrestricted shareware. Now, my software policy is generally that, if a program's free, that's good enough for me. It was just an added bonus that Fetch was also so good. If the company starts to charge for the program, that's fair enough, but that also means I'm going to start checking out the competition.
After a few more years, I happened across Transmit. Transmit was a dandy little program that offered a cleaner interface with drag and drop simplicity. I felt it was more worth the money than Fetch was, so I paid my fee and made the switch.
Suddenly, along comes CaptainFTP. This program was as easy to use as Transmit, and it was free. No point in arguing with that, so I jumped ship to CaptainFTP. Now, even CaptainFTP is no longer free. As I mentioned before, I'm happy to pay for the software I use, but I first have to find out if I'm paying for the best. So, I took the opportunity to see how Fetch had progressed since my ultimate switch to CaptainFTP. Both are $25.00, so this decision comes down to mainly two things: features and performance.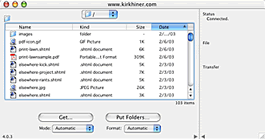 I'll start with Fetch. I was pleased with the appearance of the latest version. It still retained the familiar Fetch interface, but had adapted to OS X nicely. I liked the familiarity of it, but there was something I had to look into right away. Up through the last version of Fetch I'd used, controlling the shortcuts (instant access to frequently used FTP sites) was quite a chore. Even after using the program for a couple of years, I still had trouble remembering how to create new shortcuts. In version 4.0.3, a quick slide across the menus revealed a New Shortcut option under the Customize menu. I'm not certain this is the most intuitive place to put it, but at least it's there. Adding the shortcut information here automatically creates an entry in the Open Shortcut option under the File menu.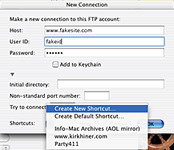 It's also possible to add a new FTP site to your shortcuts menu when connecting to that site for the first time. Simply enter the information, then select Create New Shortcut from the Shortcuts drop-down menu (sites can be added to your Keychain, as well). I like the addition of a Recent Shortcuts option in the same menu, as well. Is this standard in OS X apps? I've been seeing this more and more lately, and that suits me just fine.
Fetch has the ability to save groups of FTP shortcuts into individual files called lists. Although this can certainly help you keep your FTP sites in order, you'd have to be managing quite a few to need the feature. The Fetch interface is fast enough in OS X that I found it easier to just scroll through all my sites rather than save them into various lists.
The Fetch interface will certainly appeal to those who prefer the classic Mac OS over OS X. You're given one window, and navigating through it requires a simple double-click on the folder you want to open. You can work your way backwards via the drop down box above the window. To upload a file, you simply click the Put Files button and select the file(s) from the dialogue box that opens (holding option while clicking these buttons allows you to work with folders instead of files). Although this is very Mac-like, that's not necessarily a good thing. Navigating thought the dialogue box takes time, and you're at the mercy of the dialogue box's organization format...alphabetical. When uploading changes to a website, I greatly prefer to see the files listed by order of modification date. Can the OS X Finder do that? Maybe, but I'd rather the FTP program do it instead.
What Fetch may be lacking in its user-interface it certainly makes up for in compatibility both with various FTP servers and computer technology...especially Apple technologies. If the Mac OS supports it, so does Fetch: AppleScript, contextual menus, Text to Speech, and so on. Fetch even directly supports QuickTime, allowing for immediate listening and viewing of music, video, images, animation and other media. Fetch also has built-in integration with Graphic Converter and BBEdit.
Oddly, despite its support for numerous technologies and files, Fetch didn't want to display the .htaccess files I use with some of the websites I've designed. This is where another great feature of Fetch is able to show off...the online forums. By doing a search for .htaccess, I found a dialogue between a Fetch user and Jim Matthews, the program's author. Following Jim's suggestions to this user, I was able to create an AppleScript that allowed me to see the .htaccess file on the remote server. I'd prefer to not have to mess around with AppleScript, of course, but at least I was able to quickly find a solution. If forums aren't quick enough for you, how about toll free phone support? For $5 per incident, a real, live Fetch technician can cure what ails you between the hours of 9 a.m. to midnight on weekdays, and 1 p.m. to 9 p.m. on Saturday. The only other companies I know that offer such hours are usually waiting to take calls about explosions.
Now, there's plenty more that Fetch can do, and there's plenty more I'd like it to do, but it's time to move on to CaptainFTP. Unlike Fetch, CaptainFTP is designed specifically for Mac OS X. Although this is bad news for anyone still working in Classic, it does provide a streamlined experience for those in OS X.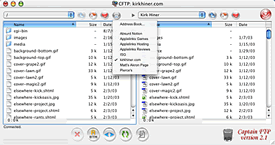 The main advantage CaptainFTP has over Fetch is that it puts most everything right at your fingertips. Upon launching the program, you're immediately presented with a double-pained window. The left hand side is the remote server, the right hand side is your local directory (this can be switched). Oddly, there is no readily accessible button to launch a connection. Instead, you must either select Quick Connect from the file menu or open the Address Book using either the button or the file menu. Once in there, however, everything starts to shape up.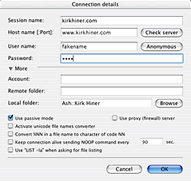 The address book stores your various sites and provides easy, button-controlled access to their settings. The best feature here is that you can determine not only which folder to open remotely when connecting, but also which one to open locally. For every site you manage, you can control which folder on your hard drive opens automatically when connecting. For web design companies managing dozens of sites, this is a tremendous time saver. Fetch somewhat supports this capability in its Mirror Folder function, but that doesn't allow for precise transferring of files. On the other hand, CaptainFTP doesn't automatically mirror folders, so there's the trade-off.
Another great feature of CaptainFTP, at least at first, is the ability to import FTP settings from NetFinder, Transmit, and Fetch. Although I was unable to test this in NetFinder, I found that CaptainFTP had no problem pulling in information from Transmit and Fetch. As far as I can tell, Fetch does not have this capability.
Although Captain FTP does have built-in integration with BBEdit, it doesn't offer graphics support as Fetch does with Graphic Converter. It also doesn't play as nicely with audio and movie files as Fetch does. However, it does support Rendezvous.
Perhaps the most unique feature about CaptainFTP is its ability to accelerate downloads. This works by splitting large downloads into multiple segments. Each segment is then downloaded simultaneously (taking full advantage of the capabilities of Mac OS X), allowing you to bypass per connection bandwidth limits implemented by some FTP Servers. The segmented files are automatically reattached upon receipt.
So, which of these should you go with? It depends upon your needs and the way you like to work (and whether or not you're working in Mac OS 7 through 9.x, in which case Fetch is your only option between the two). Both get the job done, they just go about it different ways. Fetch is the workhorse. If you mainly use FTP programs to download files from remote servers, and especially if you want to organize dozens or even hundreds of these sites, Fetch is up to the task. If, however, you're managing sites for which you want quick access both remotely and locally, CaptainFTP makes it easier. People who aren't familiar with FTP programs will probably also find CaptainFTP easier to use, whereas FTP veterans may be happier with Fetch's more traditional, clean interface and the support for AppleScript. Both programs offer quick and helpful e-mail support, but Fetch also has an excellent online forum and pay-per-incident phone support that is among the best of any program out there.
Both programs offer free trials, so I'd recommend giving them both a run. Set up Fetch, then use CaptainFTP's address book import feature to pull in the FTP settings. Links to the demos can be found below.
Personally, I'm sticking with CaptainFTP... for the moment, anyway. Now that Jim Matthews (Fetch's creator) has purchased his source code and the Fetch name from Dartmouth (with help from his winnings on Who Wants to Be A Millionaire, it would seem), the updates and enhancements may start coming more frequently. Plus, Fetch has that little running dog, and it's hard for even pirate icons to top that.
Applelinks Rating: Fetch v4.0.3



Applelinks Rating: CaptainFTP v2.1.J





« Back